With a two lane boat ramp, hundreds of kms of sheltered, mangrove lined rivers and creeks and easy access to the Sir Edward Pellew Islands and surrounding waters in the Gulf of Carpentaria, the range of fishing opportunities is enormous.
The famous Barramundi is perhaps the most sought after fish in the area, and these are available in large numbers.  The 'build up' period to the wet season (September to December) and the 'run off' towards the end of and after the wet season (March to May) are the best times for Barra fishing, but they can be caught all year round, with some anglers preferring fishing for Barra during the cooler dry season months.
Apart from Barra, there is a wide range of terrific sport and table fish available in the area.  Such a variety in fact that some anglers bypass Barra altogether and target other species.  In the estuaries popular target species include Mangrove Jack, Golden Snapper (Fingermark), Black Jew, Threadfin and Blue Salmon, Javelin fish (Grunter),Queenfish  and many more.  Around the islands and reefs, these same species can be caught in addition to Coral Trout, Nannygai, Mackerel, Emperor (various types) and many more.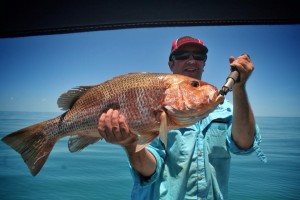 Of course, the famous Mud Crab is also available in large numbers, so bring your pots with you.
Make sure you are familiar with current NT boat safety and fishing regulations by visiting https://nt.gov.au/marine
The Club supports and promotes sustainable fishing practices and care for the environment.  We want to preserve our pristine river system and fish stocks so future generations can enjoy them as we do.
We encourage the careful release of large (over 85cm) Barramundi as these are the breeding stock essential for future fishing.
As with most delta areas, there are many areas of mud flats along the coastal areas outside the river system.  If you are caught in one of these areas on a run out tide, you will not be the first.  Fortunately, as sure as night following day, a high tide follows a low one.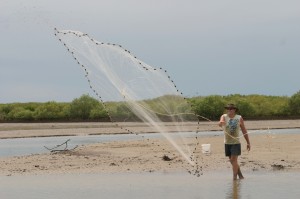 A worthwhile skill to have is throwing a cast net.The most successful baits to use in the river system are fresh caught local fish (Mullet and Herring) and prawn baits.  Don't worry if you have not yet learned this skill.  There are many ways to throw a net and many people happy to share their way with you.
Fishing the Crooked Creek near King Ash Bay – Video on YouTube

Fishing the Pellew Islands – Video on YouTube

Fishing the Carrington Channel near King Ash Bay – Video on YouTube
With the support of the McArthur River Mine Community Benefits Trust, we are undertaking an extensive Barramundi Monitoring Project to establish baseline data about Barramundi in our river system.  Our long term aim is to establish a Barramundi breeding and re-stocking facility at the club to support and enhance stocks.  The Monitoring Project will provide essential research information in support of this objective.  We encourage members and visitors to help with this research by providing trip reports and by joining the Barramundi tagging effort.
>External article of a beginners guide to Fishing the McArthur River System with a map.

> External link to NT Fishing Adventures, who have loads of videos about Fishing around King Ash Bay.