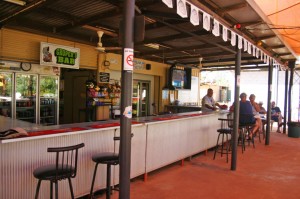 Groper's Bar is the focal point of much of the social activity at King Ash Bay. The bar stocks an extensive range of beers, spirits mixers and soft drinks along with red and white wine. The bar also opens on selected evenings during the wet season. BYO and Take-away alcohol is not permitted.
Groper's Bar & Grill is currently open 7 Nights
Bar opens at 12.00pm – Taking kitchen orders from 12pm to 2pm and 5pm-8pm
With an excellent and varied menu, quality meals and value for money, Groper's Grill & Bistro is a surprising and pleasant find in such a remote spot. Why not plan a regular 'cook's night off' and choose from the extensive regular menu or nightly specials at the Bistro.
À la carte Menu to choose from including: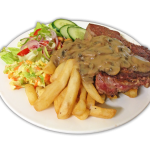 Steaks
Schnitzels
Burgers
Seafood
Desserts
Sunday Night – Roast night at Gropers Grill