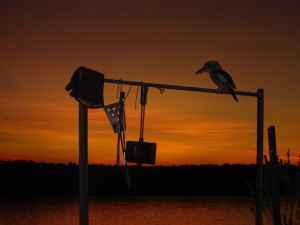 Set largely in a natural bush environment, the most apt description of our camp areas is informal and friendly. There are no allocated sites, site numbers etc. Campers are free to choose their own camp area from those available when they arrive. Both our powered and unpowered areas are large enough to ensure there is always room.
Being situated on high ground, the powered area is open all year. The very popular unpowered area (known locally as Genny Flats), is on the river bank and is closed during the wet season due to the potential for flooding. 'Quiet' generators are permitted on Genny Flats between 7.00 am and 10.00 pm.
Good quality bore water is provided in both camping areas and it is generally possible to connect your van or camper trailer to a tap. It is a good idea to bring a tap 'splitter', so that a tap always remains available to others when you have connected.
Toilets and hot showers are available in both camp areas. A dump point is available for emptying caravan toilets.
Coin operated washing machines are available in the powered camping area.
Small campfires are permitted in the camping areas, but must be attended at all times and extinguished when not in use.
Dogs on leash are permitted. Cats are prohibited.