With an excellent and varied menu, quality meals and value for money, Groper's Grill & Bistro is a surprising and pleasant find in such a remote spot.  Why not plan a regular 'cook's night off' and choose from the extensive regular menu or nightly specials at the Bistro.
Gropers Grill is open 7 NIGHTS A WEEK 
during the dry season (Approx March to November)
Bar opens at 5PM – Kitchen from 6PM
---
Special menu nights:
– TUESDAYS – CHEAP TUESDAYS
Tuesdays coincides with the Tuesday Members Draw, where a cash jackpot can be won each week. A special menu of meals to choose from each week for $15
---
– SUNDAYS – ROAST NIGHT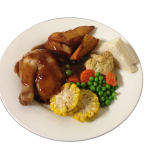 Roast of the day (2 to choose from each week) with roast potato, pumpkin, peas, carrots, corn, cauliflower bake and gravy.
---
---
– Mondays, Wednesdays, Thursdays, Fridays & Saturdays
"REGULAR MENU NIGHTS"
À la carte Menu to choose from including:
– Steaks
– Schnitzels
– Burgers
– Seafood
– Extras & Toppers
– Desserts