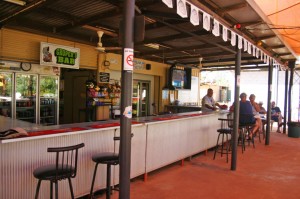 Open daily from 5 p.m. during the dry season, Groper's Bar is the focal point of much of the social activity at King Ash Bay.  The bar stocks an extensive range of beers, spirits mixers and soft drinks along with red and white wine.  The bar also opens on selected evenings during the wet season.    Take-away alcohol is not available.
Groper's Grill opens daily at 6 p.m.
There is something happening at Groper's Bar & Grill almost every evening and on some days as well.
– Sunday Night – Roast night at Gropers Bistro
– Monday Nights – Dart's night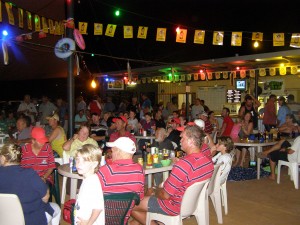 – Tuesday Morning – Line Dancing
– Tuesday Afternoon – Hoy (Bush Bingo)
– Tuesday Night – $15 Meals, Happy Hour, Member's Draw & Raffles
– Wednesday Night – Cards (Euchre)
– Friday Night – Football.  With two large screen TV's, whether your preference is NRL or AFL, your Friday Night Football fix is catered for.
– Saturday Afternoon – Carpet Bowls
– Saturday Night – Pick The Joker