Recently our August Points Fishing Competition was held. Fish are not judged on their length or weight like our other competitions where fish are weighed-in. Anglers simply present their fish to the judges and are are awarded points depending on which species the fish is.
There were 34 entries into the competition. It was a hard day's fishing as it was a very windy day.
11 fish were presented to the judges at the weigh-in.
WINNERS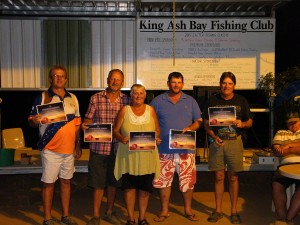 First place was Greg Maguire with 25 points.
Second place was Shirley Tribe with 24 points.
Third place was a tie with Graham Cowley and Lindee Cook with 17 points each.
Fourth place was Bruce Tribe. 14 points.
Fifth place was Paul Steindl with 13 points.
LUCKY NOMINATION PRIZES AND RAFFLE WINNERS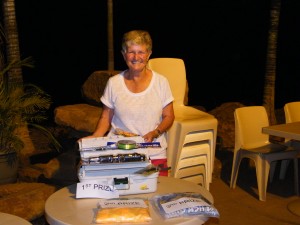 Brian Housley
Sue Cowley
Yvonne Armstrong
Peter Street
Fritz Brophy